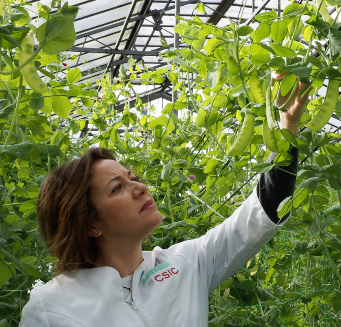 Group leader (msantalla@mbg.csic.es),  starting in the MBG-CSIC in 2002. PhD in common bean genetics and breeding. A three years postdoctoral work with Don Grierson at Nottingham University (UK) in tomato ethylene synthesis and ripening of the fruit.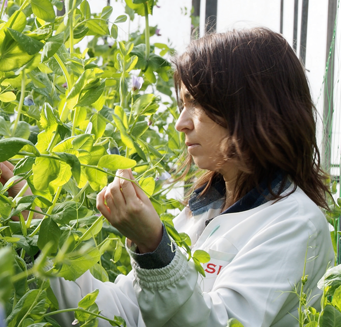 PhD in biology in our lab in 2001 (amgonzalez@mbg.csic.es). Then she did a two years posdoctoral work witH R. Niks in Wageningen University (The Netherlands) on mechanism of partial resistance and hypersensitive specific genes in rust in barley.
PhD in plant pathology in 2013 (ampesqueira@mbg.csic.es). During her research career she was involved to decipher the genetic mechanisms of virus and their interaction with plant development in different crops.
Luis Alfredo Bañuelos Vazquez (CONACYT, Mexico)
Master and Grade Students
Alberto Martínez Ríos (University of Vigo)
Angela Solleiro Vidal (University of Vigo)
Ganesu Niroshan (University of Vigo)
José Ramón Grande Allende (University of Vigo)
Marta Portasany Rodríguez (University of Santiago de Compostela)
Icía Cambeiro Tajes (University of Santiago de Compostela)
David Pérez Fernández (University of Santiago de Compostela)
Elena Pazos Linares (University of Santiago de Compostela)
Borja Hermida Vázquez (University of Santiago de Compostela)
Gözde Anuk (Muğla Sıtkı Koçman University, Moleculer Biology and Genetics department, Turkey)
Pliantsa Anastasia (University of Western Macedonia, Department of Agriculture)
Neslihan ÜNAL (Department of Biology, University of Ankara, Turkey)
Madhan Tamizharasan (Universitá del Piemonte Orientale, Italy)
Douka Kyriaki (Agricultural University of Athens, Greece)
Foteini Zacharopoulou (Agricultural University of Athens, Greece)
Denisa Miletínová (Univerzita Jana Evangelisty Purkyně v Ústí nad Labem, UJEP, Czech Republic)
Roshan Paudel (University of Padova, Italy)
Anna Katharina Voigt (Universität Dresden, Molecular Biotechnology, Germany)
Jackie Vander Schoor (UTAs, Australia)
Jim Weller (UTAs, Australia)